Cheapest call to indonesia for 2,000 yen
Cheap calls to indonesia | Indonesia cheap calls | Special Lowest call rates to indonesia
Anda telah meminta dan di sini kita @ Kobotel membawa harga lebih murah untuk menelepon Indonesia dari smartphone iphone Anda dan PC. Ada pilihan yang lebih baik daripada Kobotel penawaran murah untuk Indonesia. Tidak terlihat lagi menggunakan kredit kobotel Anda untuk menelepon Indonesia di super pernah mengalami jalan.
Sekarang mudah untuk mengisi ulang account Anda di mart keluarga atau lawson toko. Hanya meminta kami untuk PIN membayar kita di toko mana pun Anda berada di Jepang
You have asked and here we are @Kobotel bringing cheaper rates to call indonesia from your iphone, android smartphone and the PC. There is no better choice than Kobotel cheap offers to indonesia. Look no further use your kobotel credit to call indonesia in a super never before experienced way.
Give a shout out to your family at indonesia by chosing kobotel to deliver your voice cheap to indonesia today. You can make deposit to our Japan Post Bank account and let us know, your account will be credited within a short period of time.
Japan Post Bank Account: 17200-11444381
Call Softbank Cellfone: 0803-9621-795
You can also pay using the convenience store system of smart pit. Please contact us
Call indonesia for 1,500 Minutes.
We understand customers need according to their type of internet and computers hence we have made available different types of solution... Install as many as you want to test your exprience.
Call anyone, anywhere from your PC to indonesia! You'll save with incredible low rates, free VOIP to Voip Phone calling and our easy to use software.. Simple Easy and Fast! Start calling cheap to indonesia now.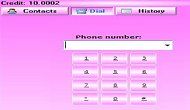 Kobotel PC-2-Phone (1)
Kobotel first choice of PC Windows based softphone. Make that your international calls cheap calls to indonesia from your pc computer and laptop with our Kobotel dialer with enhanced audio codec such as g729.
Download
Kobotel PC-2-Phone (2)
Are you behind any known firewall at school, office or even in your country? Is voip blocked in your region? Or simply the (1) pc2phone software does not meet your demand. Try downloading and using this alternative solution on your pc to make cheap calls to indonesia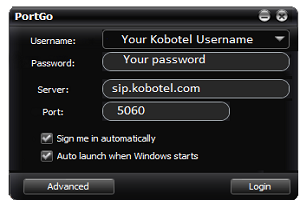 Portgo PC-2-Phone (3)
PortGo is an an alternative softphone that you can configure on your desktop to make cheap voip calls to indonesia using your Kobotel credentials. You will need the below settings to be able to login to use make low rate calls to indonesia
MOBILE SOFTWARE

iPhone - iPad - iPod
Install our free apple mobile app to your device and start making that cheap calls to indonesia at an unbelievable rate and quality.
Click Here to download>>

Andoid Phones
Install our free Andriod mobile app to your device and start making that cheap calls indonesia at an unbelievable rate and qualit.
Click Here to download>>

Symbian Phones
For all Synbian Powered device, such as Nokia etc
Click Here to download>>